Are you tired of jerkin' the gherkin'?
Maybe it is time to take matters away from your own hands…
Ever since puberty hits men, five-knuckle-shuffles make for one of their favorite things to do. And every wanker has, at some point, painted the ceiling after jacking off to some erotic porn. But good old masturbation just doesn't cut it after you experience the real deal.
Once you have sex, your hand will not be good enough, period! But if you haven't been fortunate enough to venture into a love tunnel recently, you (and your balls) might be feeling blue. That's why you should consider making a pocket pussy at home.
Is it as good as a real pussy, a Fleshlight or a pocket pussy of the pornstar of your wildes dreams?
Heck no!
But is it way better than your hand?
Heck yeah!
So, get ready to take your solo sexual adventures up a notch, because we've got a list of the six best ways to make DIY pocket pussies you can make at home.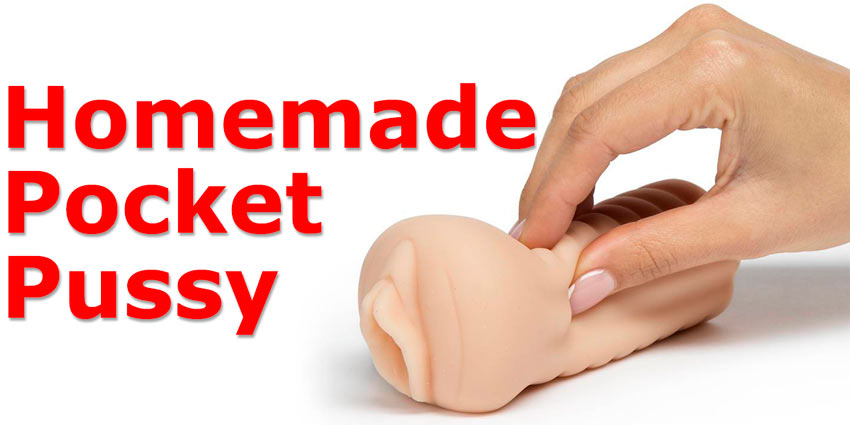 How to make the 6 Best Homemade Pocket Pussies
Heads-up – you will likely be making at least one of these pocket pussies as soon as you're done reading this guide. And that's because most of these fake cha-chas can be made using objects that are readily available in a standard household.
Every nut cannon is different; likewise, masturbation varies significantly for different men. As such, we have tried to include a wide array of pocket pussies that provide customized looks and feels.
Enough foreplay, let's get down and dirty!
Towel Twat
How to make a pocket pussy from a single towel?
Yes, you read that right. All you need is a small towel, along with a rubber band and a latex glove and voila! The easiest, quickest way to make a masturbator toy for your schlong!
You can go about it in two different ways – folding or rolling the towel. Let's look at each of these individually.
#1 Folded Towel Variant
Step 1 – Fold the towel to create a long, narrow shape. You may have to fold it a couple of times.
Step 2 – Keep the latex glove on one end in a way that the cuff is hanging over the edge.
Step 3 – Take the other end and fold the towel in half to cover the glove.
Step 4 – Pull the glove cuff slightly and stretch it over the two towel ends to keep them in place.
Step 5 – Secure the glove cuff over the towel ends with a rubber band.
#2 Rolled Towel Variant (requires one more object – a full toothpaste tube)
Step 1 – Fold the towel lengthwise. Insert the toothpaste tube inside the glove and place it on one end. Again, the cuff should be hanging over the edge.
Step 2 – Roll the towel around the glove (and tube) once or twice.
Step 3 – Fold the edge of the glove cuff back to hold it in place around the rolled end of the towel.
Step 4 – Keep rolling till the end and then pull out the tube.
Step 5 – Secure the roll with the help of one or two rubber bands.
We found the rolled variant to have a tighter fit than the folded variant. You can choose one as per your preference. If you're looking to stimulate anal penetration, we'd suggest going with the rolled version.
---
#3 Sock Snatch
The towel twat was quite straightforward, wasn't it? It gets even simpler now with the sock snatch. The idea is pretty much the same but using socks instead of a towel. Why, you may be wondering. Because socks allow greater customization.
You would need a latex glove, three pairs of sports socks, and a couple of rubber bands to make this pocket pussy within minutes.
Step 1 – Take two pairs of socks and fold each of their toes so that they are hidden underneath.
Step 2 – Take one of these pairs, put the latex glove on top (with the cuff hanging over the edge), and place the other pair on top to sandwich the glove.
Step 3 – Pull and wrap the cuff over the socks' ends. Secure it with a rubber band.
Step 4 – Wrap the third pair of socks around the middle of these two pairs to customize the level of tightness.
Step 5 – Secure the third pair of socks with a rubber band.
---
#4 Toilet Paper Tutu
For those of you who are too lazy even to make the sock masturbator, this might be the best option. Honestly, it doesn't get easier than this when it comes to DIY pocket pussies.
You need just two things to make it – a latex glove and a toilet paper roll.
Step 1 – Carefully pull the cardboard tube out of the toilet paper roll. Wiggle and rotate it to ensure that you do not damage the paper.
Step 2 – Put the glove in the hole – fingers in and cuff out.
Step 3 – Pull the cuff over the edges of the roll. It should automatically be secure because of the width. But if needed, you could use a rubber band to increase its tightness.
What we liked about this homemade pocket pussy is how easy it is to adjust its tightness. If it is too tight for your member, you can simply remove some toilet paper from the middle and then put the glove in.
---
#5 Sponge Slit
This next option may require you to get some supplies from a nearby store, but it's well worth that additional effort. You would need a long and narrow can (Pringles or Lays would be perfect), 2 to 4 wash sponges (small enough to go in the can), and a latex glove.
Step 1 – Take the can and put two sponges into it from one end. You want to slightly bend the sponges so that they go in the cylindrical can conveniently.
Step 2 – Place the latex glove between the remaining two sponges in a way that the cuff is hanging out.
Step 3 – Insert this pair of sponges with the gloves into the can. Again, bend the sponges accordingly so that they fit in the can.
Step 4 – Take the cuff and wrap it around the can opening to secure the sponges. If needed, use a rubber band to secure the glove.
The only catch with this masturbator is that the sponges should be soft to give you a pleasurable sensation. Also, you could use a tall glass instead of a Pringles or Lays can.
---
#6 Cucumber Cooter
The penultimate option we have for you is perfect for people who want a pocket pussy that's cool. You will need a cucumber (should not be very cold), a knife, some rubber bands, a condom, and some duct tape to make this pocket pussy.
Step 1 – Cut off one end of the cucumber. And then, cut the cucumber in half lengthwise.
Step 2 – Open the two halves; hollow them out by removing the seeds and cucumber flesh. You want the two halves to fit snugly around your penis.
Step 3 – Once you find the perfect tightness level, take a condom, and roll it out. Place it between the two halves and then wrap them with rubber bands. Make sure that the edge of the condom is hanging out.
Step 4 – To further secure it, use duct tape all around the cucumber. You don't want it to break while your penis is in there, right!
Step 5 – Stretch and wrap the condom edge over the cucumber opening.
We strongly suggest that you use a room temperature cucumber; otherwise, it will get icy, and your wiener may not enjoy that. This DIY pocket pussy is the most compact of the lot.
---
#7 Silicone Squeezer
Our last pick is ideal for those who have a lot of patience and want to make a reusable pocket pussy at home. It's like a homemade Fleshlight of sorts, and you'll need a candle (bigger than your penis), silicone sealant, and a sharp knife.
Step 1 – Measure and mark your penis against the candle. Make sure that the markings are roughly 25% narrower than the girth of your penis.
Step 2 – Cut off the two ends lengthwise as per the markings. Cut off the remaining two sides to get a rectangular shape.
Step 3 – Round off the edges to get a smooth, cylindrical shape like a carrot. Again, make sure that it is 25% smaller than your penis.
Step 4 – Coat the candle with a silicone sealant. Ideally, it should be half-an-inch in thickness.
Step 5 – Let it dry completely (this might take a couple of weeks). Take out the candle and then use the silicone mold as your DIY pocket pussy.
Getting it right in the first attempt is a bit unlikely, but it's worth the time and effort. Moreover, you can cut notches into the candle before coating it with the sealant to add texture.
---
A Word of Caution
Irrespective of the homemade pocket pussy you pick from our six recommendations, make sure that you use enough lube while going at it. After all, these fake masturbators aren't going to get wet for you, if you know what we mean!
Final thoughts about DIY pocket pussies
Whether you're in a long-distance relationship or you're the ambassador of the 'Friend Zone,' a homemade pocket pussy could be the closest thing to a real woman for the time being.
If you don't mind spending over a hundred bucks for masturbation, you could buy a Fleshlight instead.
But why pay for sex when you can have it for free, eh?
Just make one of these pocket pussies at home and let your penis do the rest!
That being said – If you want the best quality and realistic feeling then I would suggest getting a Fleshlight, you can read all about Fleshlights and find the best one for you.
I personally love the Emily Willis Fleshlight and would recommend it to all men.