Beginner Prostate Massager
Finding a good prostate massager for beginners can be a little trick so I've created this guide to help you.
I've included a list with the best small prostate massagers for beginners that I've personally tested during the last 12 years working with sex toys.
You can find products with a wide range of features so there should be something for you.
What is the Best Prostate Massager for Beginners?
#1

Nexus Revo Slim 2.0

This is the second version of the Revo slim prostate massager from Nexus and its circumference is only 3.45-inches (8.7cm.) at the thickest point.

Its insertable length is 3.74-inches (9.5cm.) and it's made with high-grade black silicone. You can control the Revo Slim with the buttons on the massager or with the included remote control.
Pros:
Slim shaft for easy insertion
Lots of vibration both for your prostate and perinium
Rotating base for rim-job experience
Rechargeable
Remote control or device control
Cons:
The noise level is a bit high
It tends to slip out during play
Very expensive
What I Think About it
I'm a huge fan of Nexus's prostate massager lineup and the Revo Slim 2.0 does not disappoint. I love the quality of the massager itself and the included remote control. I often see manufactures cut corners on the remote control but that's not the case here.
You're going to love the slim design which makes it the perfect choice for beginners or if you simply just love a small prostate massager.
I would have loved if there was a slightly thicker bulge right before the base to make it sit firmer. It does tend to slip out a little during play which is a little annoying.
The rotation near the base is a really nice addon and it does feel pretty good but it does add some noise.
I recommend the Nexus Revo Slim 2.0 if you're after the best small prostate massager for beginners.
#2 Nexus G-Play Trio
The G-Play Trio from Nexus is as the name suggest 3 different sizes of prostate massagers that you can work your way through.
The smallest of the bunch is only 2.56-inches (6.5cm.) in circumference and has an insertable length of just 2.35-inches (6cm.).
The middle one has a 3.46-inche (8.8cm.) circumference and an insertable length of 2.87-inches (7.3cm.).
The Biggest has a circumference of 4-inches (10.3cm.) and an insertable length of 3.15-inches (8cm.).
All 3 tiny prostate massagers are made of black silicone and they all have vibrating features.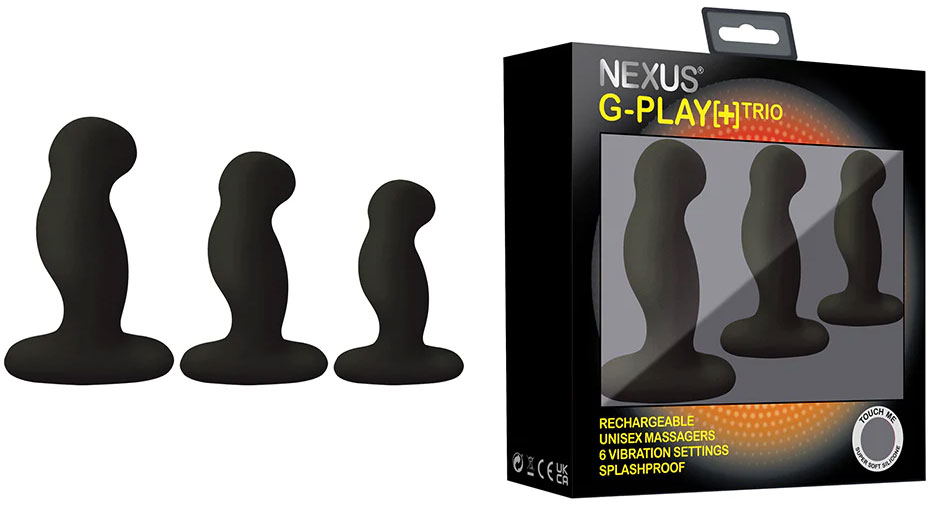 Pros:
Awesome prostate massage training kit
Small sizes for beginners
High-quality silicone
Including a vibrator
Cons:
The vibration is quite low
It's only splashproof
What I Think About it
Yes, yet another Nexus product but this time a completely different type and purpose. The Nexus G-Play Trio is essentially an anal training kit with a focus on prostate massage which is the first I've ever tested in this category.
This is in my opinion a better way to train for bigger prostate massagers than to simply expanding your butthole for long periods of time. It's simply a fun way of exercising your butthole 😊
One problem with kits like this is the lack of cool features, adding them will dramatically increase the price of the product.
The sizes are tiny which is going to make it a lot easier to get started without any discomfort.
I'm super happy with the G-Play Trios and they are 100% the best training set for prostate massage.
I recommend the G-Play Trio if you're after a prostate massage training kit.
#3 Lovehoney Rookie
The Rookie is a very simple beginner prostate massager with a 10-function vibrator at the back to get things moving.
You're looking at an insertable length of 4.5-inches (11.4cm) and a circumference of 3-inches (7.6cm.) which makes it ideal for first timers.
Pros:
Easy to find your prostate with it
Very cheap
Simple and easy to use
Cons:
The quality is not that great
Vibration power is low
You need a hand to hold it in place
What I Think About it
Lovehoney's Rookie prostate massager is very cheap compared to the competition which does show to some extent. I don't really like the design that much but it's done to make it as cheap and accessible to as many as possible, which I like.
You're not going to get any crazy vibrations with the 10 different vibration settings since it's located in the back of the massager. That's another way to save some cost on the production which is clearly what Lovehoney has been aiming for with the Rookie.
It does however have some nice things going on for it with it's slim, curved, long insertable part. It's pretty easy to find your prostate glands with it and start the massage.
I recommend the Lovehoney Rookie if you're after the cheapest small prostate massager with vibrations.
#4 We-Vibe Vector
The Vector from We-Vibe has an insertable bulge with a circumference of 3.5-inches (8.9cm.) and there is a powerful vibrator inside that. This is very important because it delivers the vibrations directly to your prostate making it way more effective than the Lovehoney Rookie or the Nexus G-Play Trio.
Vector comes with a remote control and the ability to control it through an app for long-distance play.
Pros:
Very powerful small prostate massager
Including remote control
Can be controlled over the internet with an app
The narrow base makes it sit very firm in your butt
Including a perineum vibrator
What I Think About it
Vector from We-Vibe is certainly not the cheapest and smallest of the bunch but it packs some serious punch in terms of vibrating power and features.
I love the fact that you can control it with the buttons on the massager itself, use the remote controller, or why not let your long-distance partner control it through an app?
It's pretty wild how much power and tech they managed to put into this small P-spot massager. It even has a vibrator for your perineum which feels amazing. You should seriously give it a try!
I recommend the We-Vibe Vector if you're after a high-tech small prostate massager.
#5 Under Control Slim
The Under Control is a slim prostate massager with a thrusting feature, vibrations, and a heating tip.
You can enjoy its 4-inches (10cm.) of circumference and 5-inches (12.6cm.) of insertable goodness.
You're also getting a remote control which can control the vibrations and the heating element in the tip of the device.
Pros:
Thrusting slim prostate massager
Heating in the tip
High-quality silicone
Including a remote control
Cons:
It's on the upper limited in terms of thickness for beginners
It's very noisy
What I Think About it
This is not the most beginner friendly prostate massager but I've included the Under Control because it's fairly slim and it has some unique features.
I'm loving the thrusting feature which is something that is rarely found on prostate massagers. It's going to make it easier to get a prostate orgasm if it hits the right spot, this is however also a bad thing since it might not hit the spot in you.
Another cool (or hot) feature is the heating bulge tip which can be turned on with a single button press. It's not something I find too useful but I know guys who love that and it can be the difference between an orgasm and nothing.
I recommend the Under Control if you're after a slim thrusting prostate massager.
Avoid These Mistakes When Shopping for a Small Prostate Massager
There are a few pitfalls you need to avoid when you're going shopping for a beginner friendly prostate massager.
The thickness – The thickness of the bulge is very important and the determine factor for a successful insertion or not. Manufacturers and resellers all have their own way of measuring the thickness of their sex toys which is very frustrating to navigate through. Some measure the widest points diameter while others measure the circumference, while some just have the average width and don't even get me started on imperial and metric which only adds to the confusion.
The list of the best beginner prostate massagers above all show the circumference at the widest point and both in imperial units and metric.
The length – It's the same deal with the length but this time it's the mix of insertable and total length that's the problem. I always include the insertable length in both imperial units and matric since it's the most important measurement when we're talking length.
Too big – Getting a too big prostate massager can be pretty discouraging and not a great way to start your prostate massage journey. You always have to option to buy a smaller one and hold on to the bigger one for later or you could get an anal training kit and get some practice in.
FAQ:
My Final Thoughts About Beginner Prostate Massagers
Prostate massaging is something that does take time to get into and getting to the point of a prostate orgasm is quite tough. But there are so many great beginner prostate massagers and the end goal is 100% worth it in my mind.
I would highly recommend taking a look at our how-to prostate massage guide if you're completely new to prostate massaging.
If you feel like the prostate massagers on this list is too small then I would recommend you our guide to the best prostate massager which has a wide range of massager sizes.